You know all about The Gossip's new album, Music for Men, and you know their sound right now. But what about what came before? The band has a respectable catalogue by now. Read on for a brief guide to their releases!

The Early Years: 1999 - 2002


Formed in 1999, the Gossip wasted no time: they moved from their tiny hometown of Searcy, Arkansas to Olympia, WA, and released their debut self-titled EP the following year, on K Records. The Gossip sounds a bit sleepy compared to the rest of their works, but it already has the band's trademark elements: Beth's huge voice fearlessly singing about desire, disaster, girls and sex, Brace Paine's rhythmic, fuzzed out, swampy sounding guitar, and previous drummer Kathy Mendonca's deceptively simple, low-down drumming.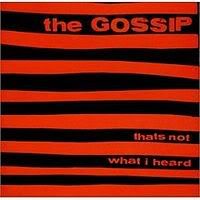 In January of 2001 the band put out its first album, That's Not What I Heard, on Olympia's famed Kill Rock Stars. From start to finish the album bursts with energy and defiance, and each song explores the band's original Southern gospel punk sound. Beth Ditto howls about love lost, love gained, fighting with other women, and making up with them too on songs like "Swing Low", "Where the Girls Are" and "Hot Date". As provocative as the songs are, it's clear that they are not meant merely to titillate -- their purpose is to make Ditto's voice, and her Southern Christian-raised diy lesbian perspective heard. From the beginning, the Gossip aren't playing songs about sex to be skeezy, they're doing it as a form of activism. And by this time, they're already capable of taking that activism live, as you can watch in the video below from 2001:
Movement: 2002 - 2006
After some extensive touring in the US, the Gossip finally put out a second ep, Arkansas Heat in 2002. Though the title feature's the group's Southern home state, you can already hear them getting away from that influence on this EP. The full length Movement (2003) bravely speeds up the tempo, fuzzes out the guitars even more, and focuses on crafting a new indie dance style. Both guitars and percussion are louder and challenge Beth's overpowering voice, and Beth takes it back a notch. The whole band learns to balance itself better on this album, and the result is a satisfying, sunny Southern-fried post punk album that seemingly never gets old. Beth mixes critiques of the indie scene into her lyrics about love, loss, and "dancing", taking shallow scenesters to task for their focus on shoes and hairstyles, and the band works to create a real community with this work.
Dance Dance Revolution: 2006 - right now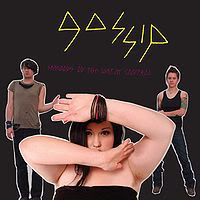 In 2006 the Gossip shocked their fans with Standing the Way of Control: a relentless assault on the conservative US government that draws mainly on....disco? The band leaves behind the deliberately sloppy distorted guitars and tin can drums for smooth, glossy, cool beats that almost sound like they could have easily been made in the late 1970s. New drummer Hannah Blilie, who's style is higher and more sibilant than Mendonca's was, helps the band breach this identity crisis with flair, while Beth and Brace experiment with new sounds and perfect their new brand of activist disco punk. The album is chock full of songs that would travel easily from the picket line to the dance floor, an impressive feat for any band, I think.



SITWOC launched the band's unexpected success in the UK. The Gossip toured extensively in Europe and put a lot of time into doing press their in 2007. Watch this footage of them from a Portuguese music festival:


The band follows up their new found popularity in Europe with Music for Men, a further exploration of gay life and gay rights, love, and European dance music. On this record the group experiments with keyboards, synthesizers and drum machines -- but somehow at the same time manages to keep it true to their punk roots. For ten years the Gossip have been seeking out barriers and taking sledgehammers to them. Let's hope they do it for ten more, and beyond.

Want a full Gossip discography? Try their Wikipedia page, which is pretty detailed and well-done.