One of my biggest complaints about grad school is that you get so wrapped up in it that you can't keep up with current events. And of course, for me 'current events' means what records are coming out and when. So imagine my surprise when I found out during my first week of summer break that one of my favorite musicians of all time put a new record out just yesterday! That's right folks: it's time to give it up for Anita Robinson, underrated guitar hero of Viva Voce: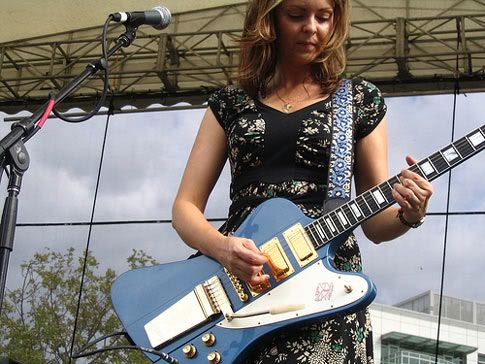 So in celebration of the release of Rose City, and first single/video "Octavio", I present what I believe is the first video from VV, "Alive With Pleasure". A true summer jam with a great melody and fantastic lead guitar part, there's no better introduction to these guys and their garage-y, soulful, just slightly psychedelic sound. There's also no better introduction to Anita's skills, which are nothing short of inspiring.
Great song, good beat, positive vibe, and hot guitarist = awesome way to start a vacation.