A lot of this month's posts have been downers, I know. Talking about rape culture and the prevalence of sexual assault is never easy. But pain and difficulty aren't the whole story, as I learned on a Sunday afternoon in Dutchess County. This happened a few weeks ago, but, I wanted to save this for the final post of Sexual Assault Awareness and Prevention month.
On April 11, I drove down to Red Hook because my friend and fellow volunteer Amy was playing a show there. Smack in the middle of a several month tour, Amy was on the road with a band she'd joined late last year, and I wanted to go and support her, especially because I wasn't able to make the tour kick off show.
I didn't know any of the bands on the bill, not even Amy's, and I'd never been to Red Hook High or Red Hook. All I knew was that the show was supposed to be a benefit for Men Can Stop Rape, and I'd never even heard of the organization. I had no idea what to expect from this show, but decided that that day was as good as any to explore the unknown.
And I will forever be grateful that I did. I was rewarded with several fantastic bands, a cafeteria full of dancing, smiling kids, homemade baked treats, and what I can easily say was was one of the best shows I've ever been seen.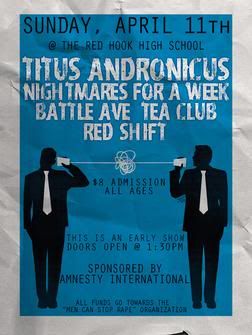 I arrived at Red Hook High a bit late, so I unfortunately missed event openers Red Shift. When I got there, Battle Ave Tea Club had just launched into a set of forceful, distorted finely wrought mid-tempo songs that reminded me of early Rainer Maria and The Breeders. Kingston's own Nightmares for a Week followed with their blues-tinged, '90s alt radio-friendly power pop anthems. In between songs bass player Sean Paul announced that the band would be donating a portion of their merch sales to Men Can Stop Rape, to a round of cheers and applause.
Before the headliners went on I decided to treat myself to an eagle bar from the snack table, which was run entirely by students. The door was managed by students as well. There weren't many 'grown ups' at the show at all, and I appreciated that there weren't any parents or faculty ordering the bands or audience around. There was no negative, repressive Principle Skinner-type energy, and it was really fantastic to see kids being responsible and working together on this benefit, without seeing a bunch of adults tell them what to do.
At 4:15, my friend Amy finally went onstage with final act Titus Andronicus. I'd never heard of them before Amy started playing with them, but it turns out, they're a kind of a big deal. They've been hyped by a lot of publications I do my best to avoid, like Brooklyn Vegan, Pitchfork, and Paste. But a tight set and roomful of happily frenzied, singing, dancing teenagers proved to me that the hype is well-deserved.
You can hear the beach-y, sunny sounds of early Rilo Kiley, the jammy feel of late Anniversary, and just a touch of Polyphonic Spree-like euphoria in TA's E Street Band-sized shanties and hymns. The mix might sound unlikely, but spending the bulk of the set sandwiched between a handful of students who alternated between dancing wildly and sending text messages (I'd like to think they were maybe tweeting about the show) and Battle Ave Tea Club's drummer -- all of whom seemed to know every word to each of TA's songs -- made a believer out of me. From where I stood, I could see both the band and most of the audience, and I don't think anyone in that cafeteria was able to keep still while TA was onstage.
I'll admit that I was skeptical of an anti-rape organization that focuses on men, and that I was doubtful of a bill without a single female-fronted band. But after hearing remarks from organizer Rob Rubsam and the event's intent was clear to me: Men Can Stop Rape isn't about excluding women, but about focusing on holding men responsible for their actions and bringing them into the fight against gender-based violence. During the show Rob made a brief speech about how men can be part of the solution, and how they can change and challenge ideas about masculinity.
Patrick Stickles of Titus Andronicus also spoke at length during the band's set about the show's meaning and the importance of its cause (and sort of won my heart in the process). He talked a bit about Take Back the Night, and how he'd attended in college for a friend who'd been assaulted, and he encouraged the audience to be inspired by the event to hold benefits of their own for the causes that matter to them. Most movingly, he told the young men in the audience: "Everyone's been telling me I'm a man...which is just a Y chromosome and a penis, but the rest of it is made up. Don't let anyone tell you what it means to be a respectable person."
In the context of a high school cafeteria, the revolutionary value of such ideas becomes apparent. In a world where vapid hipster bands compare bad traffic to rape (it's gonna be awhile before I get over that, deal with it) and college students publish articles about how date rape is an 'incoherent concept', the very idea that even a small group of high school kids could participate in an anti-rape benefit and hear about alternatives to hegemonic, aggressive masculinity made my heart feel really full.
Major kudos are in order for intrepid organizer Rob, who was cool enough to answer some of my questions about how he put this event together. A graduating senior and musician, Rob wanted to organize an event that would be for the students, by the students, and located within their shared, on-campus space. He also wanted the event to be for a good cause.
It started with an e-mail to Titus Andronicus: "I was figuring that I would probably get turned down," Rob writes, "but I figured that there was no harm in trying." (Words to live by, kids and future artists and activists!!) TA's enthusiasm and willingness to re-route their tour for the benefit sparked Rob to make the show happen, despite some local opposition -- the organizers of a different end-of-year student concert attempted to block the benefit to keep it from taking attention away from their show, it seems.
But with the help of his friends and fellow students, Rob convinced the school to allow the show. Says Rob: "...my friends, and most of the members of the Amnesty International and Interact clubs were very supportive all along, as they recognized the inherent worth of not compromising or conceding on this." It's brilliant that they held fast to their convictions, and that they were able to put on a show that turned out to be such a success. Rob says that he's proud of the event, and that he feels he did what he set out to do. In his own words:
I do believe that it led to an increased awareness of the issue of rape, and our role as a community as a part of it. And, at the very least, it probably got people thinking, both about who they were, and where their money was going.

Also, it certainly has led to more Titus Andronicus fans in my school. As well, it has acted as kind of an ideological booster for me, reminding me that, indeed, people can live by their ethics, and stick to their beliefs, as I fully intend to do.
A lot of the time, it feels like there will always be men who feel entitled to women's bodies, and like there will always be people who cover up for those men. It feels like there will always be violence, victimization, and fear. But that afternoon, it hit me that there will also always be organizers like Rob, musicians like Patrick Stickles, and bands like Red Shift, Battle Ave Tea Club, Nightmares for a Week, and Titus Andronicus. There will always be activists and artists who are willing to put their time, resources, energy, and selves into making our frequently brutal world feel safer, one show at a time.