Why spend an entire week blogging exclusively about The Gossip? They're a great band, and they're one of my favorites -- but there's more to it than that.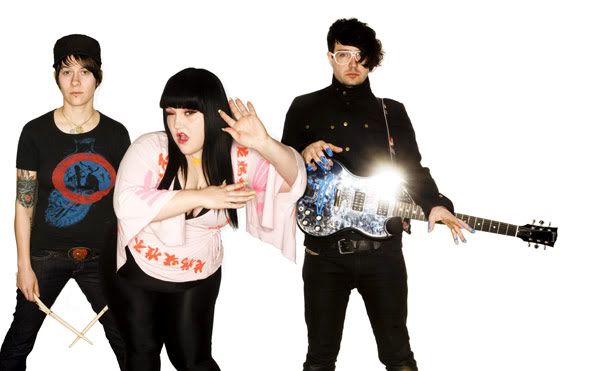 The Gossip exploded into the cooler-than-cool, indie-r than indie community in Olympia, Washington, home of Kill Rock Stars, K Records, and the Riot Grrrl movement after moving there from their hometown of Searcy, Arkansas. In doing so, The Gossip brought the sound and perspective of the Southern, Christian-raised rural working class to the typically urban, coastal middle class orientation of punk rock. The Gossip gave a voice to the all but completely obscured Southern lesbian feminist.
The band has evolved from it's roots and grown to address new issues: on
Movement
, the group's second full-length album, Ditto sings about being part of the so-called in crowd, and tracks about obnoxious scene politics and shallow hipsters reverberate with a righteous rejection of scenism. The band takes it further on the following
Standing in the Way of Control
and
Music for Men
by taking on gay and trans rights issues. Ditto sings love songs about gay couples that could be about anyone, broadcasting LGBTQ issues over the radio without sensationalism or self-consciousness.
In recent years, vocalist Beth Ditto has gained arguably more attention for her appearance than for her feminist and pro-LGBTQ politics. But with the support of her bandmates, she's turned issues around sizism and fatbashing into a feminist and political issue as well, standing up for the right of women to be as large as they want, and to love their bodies as they are.
The Gossip bring radical, open-minded, anti-hate politics back to punk, which is exactly where such politics belong. They increase visibility for unseen communities within punk: queer punks, lady punks, Southern punks, and working punks, to name a few. And they do so in a creative way -- by making dance music, short upbeat songs about love, queers, and the importance of community that are capable of reaching a broad audience. Even better, now they're doing it on a major label's dime, having just released their first record for Sony's Music with a Twist Records.
Political beliefs, and the importance of one's identity to one's beliefs, are a part of the Gossip's work. It's not something tacked on after the fact, it's not incidental -- it's part of who all three members are, and is a key factor in their work. They are the embodiment of something I heard legendary activist Cleve Jones say in a speech recently: he said to a crowd of other gay activists, "You want equality? You want to be equal? Then act equal!" he encouraged the crowd. The Gossip make music about acting equal -- whether you're gay or straight, big or small, male or female -- no matter who you are.
The Gossip actually wants you to do more than act equal -- with the music they're making,
they want us to dance
. In a class on the politics of women's bodies, I read about how poverty impacts women physically, and about poor women who claimed that when you're faced with mounting bills, hungry children, and a system that won't help you break the cycle of poverty, the bravest thing you can do is retain your sense of humor, and laugh. The Gossip's music operates on a similar principle: when you're being treated like a second class citizen, and when your government is trying to take away your rights, when you find yourself living in fear of harassment and violence, the bravest and most defiant thing you can do is dance.
The Gossip wants us to stand in the way of control, and to live our lives. And that is why The Gossip matters.