Readers, I'm pleased to help spread the word about these two upcoming projects: not one, but TWO zines pertaining to the Riot Grrrl legacy are being planned as we speak!
Fellow zinestress and blogger Amber is working on a perzine on the all important and all but ignored issue of jealousy, awkwardness, and self-consciousness amongst scene girls, and how girls can deal with it. The zine will include "reading recommendations, distro listings, perzine-y stuff and a brief outline of riot grrrl (and why I think that riot grrrl ideas are still relevant today)". Amber is interested in people's opinions, so go check out her blog post to find out more (and to also check out a sweet picture of a rad RG tattoo)!
Sisters in the struggle Stacy Konkiel of Soul Ponies and Kate Wadkins have just put out a call for submissions for their International Girl Gang Underground Zine. Check out the sweet flyer: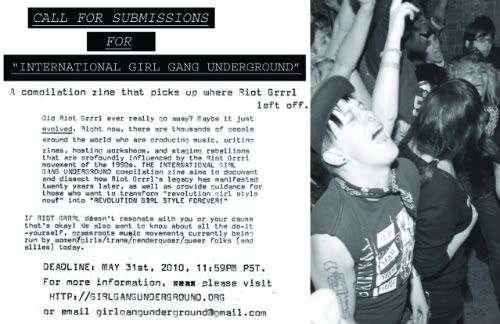 I want to point out that both of these zines are open to a wide range of opinions on Riot Grrrl as a sociopolitical movement. As Amber says, her zine "won't necessarily be all "rah rah rah! riot grrrl rules!" If you're against the revival, feel free to share that opinion." In a special statement, Stacy and Kate disavow that "Riot grrrl, while being a vital movement within punk rock for many people, has a reputation for exclusion."
Amber, Stacy, and Kate aren't on some sort of nostalgia trip. They're committed to addressing the movement's failures and problems, and to adapting and creating a more inclusive punk feminist art culture. "I'm of the belief that we can talk about these things and try to improve upon them," writes Amber. Stacy and Kate are upfront about encouraging POC, trans/queer/genderqueer/ally folks, "including transguys and cisguys," to send in submissions.
In other words: these zines are the perfect place to start asking questions around big issues, and problems like the ones I was just blogging about earlier this week! If you have concerns about punk politics and activism, about building community across racial, class, sex, gender, and other social lines, about how to have productive discussions about these and other difficult topics, this is where you should start! So get out your Big Chief tablet, your Moleskine, your marble notebook, your word processor of choice and your favorite pen and get writing already. The movement needs your voice!