Corin Tucker is officially back -- the much anticipated 1,000 Years was released on Kill Rock Stars just yesterday.
Never having been presumptuous or diva enough to work alone, Corin's new release is technically by The Corin Tucker Band. She's backed here, and on her upcoming tour, by collaborators and friends Sara Lund and Seth Lorinczi.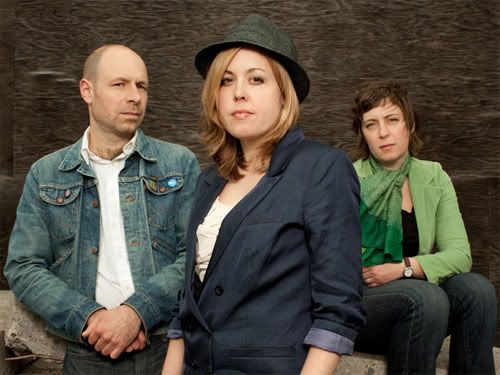 My fellow fans of Tucker's work with Heavens to Betsy and Sleater-Kinney may find 1,000 Years a bit quiet, but devotees of Corin's distinct songwriting style, of her talent for succinct, emphatic storytelling through sensuously embodied images, will not be disappointed. Oh, and yes, her voice is as thrillingly powerful as ever, even though she seems to be working hard at singing a bit differently this time around, just as she seems to have modified her vocal style with each new project she undertakes.
Corin has talked in interviews about this record's content. She's charmingly and self-deprecatingly referred to 1,000 Years as a 'middle aged-mom record', calling it "not something a young person would write". The lyrics do feature mature themes, like marriage woes and the strain of providing for a family in the current economic climate. But Corin also sings about the excitement and the uncertainty of personal transformation, and in a way that feels quite relatable, and surprisingly comforting.
The album is available on CD, for digital download, and as an LP with download. From what I understand, if you order it directly from KRS, you can get the download instantly, right after you make your payment.
But the album isn't the only thing that made it's debut yesterday -- the music video from the record's first single is out now too! So enjoy some brand new Corin on this pleasantly sunny, autumn hump day.