After a summer that seemed like nothing but bad news, fall finally brings tidings of activist feminist, postcolonial joy from Brazil! Salvador's own feminist punk collective and distro, Na Lâmina da Faca, wants YOU to help them plan their upcoming feminist women's festival! Here, look at the flier they e-mailed me: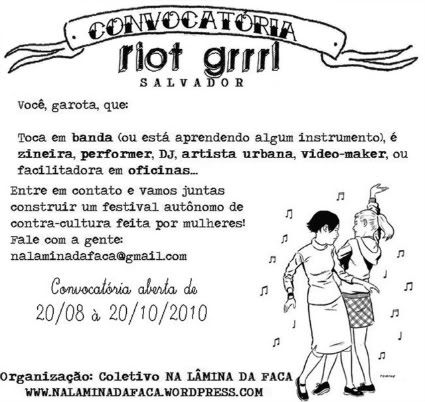 My Portuguese is limited, but from what I can tell the flier says, "You girls who: play in bands (or are learning to play an instrument), and who are zinestresses, performers, DJs, urban artists, video makers, and workshop facilitators.... Get in touch and plan an independent, counter-cultural festival for women with us!"
"Convocatória abierta de 20/08 à 20/10/2010" means "Open call from August 20 to October 20, 2010". Which means that the collective is accepting submissions right now! So diy and independent feminist artists, send your music, art work, zines, writing, links, and also your festival ideas to nalaminadafaca@gmail.com.
No art or links to send? No worries, just send your love and support! Do your part to support your sisters in Na Lâmina da Faca by reposting the flier, reading and recommending their blog, and listening to and supporting the Brazilian punk bands they write about and the Brazilian zines they distribute. Help spread the love, and help put the international in International Girl Gang Underground!