Yesterday I engaged in an activity that for me is unprecedented in its overt 'femmey'-ness: I went around the corner to the local salon for a little mani/pedi.
While waiting for a beautician to start working on my nails, I paged absent-mindedly through some celebrity gossip magazine. I didn't quite recognize a lot of the people in the photos, and so the headlines about scandals involving diet plans, adultery, and adoptions didn't really move me.
But here's what got my attention: photos of Kristen Stewart at Comic Con, wearing a Minor Threat t-shirt.
Minor Threat?!
I incredulously wondered to myself.
Really?
I experienced a split second of elation, yes --
Kristen Stewart listens to Minor Threat, FUCK YES!
-- which gave way to judgment, cyncism, and scorn.
Like she even knows who Minor Threat is. Chyeah, and monkeys might fly out of my butt.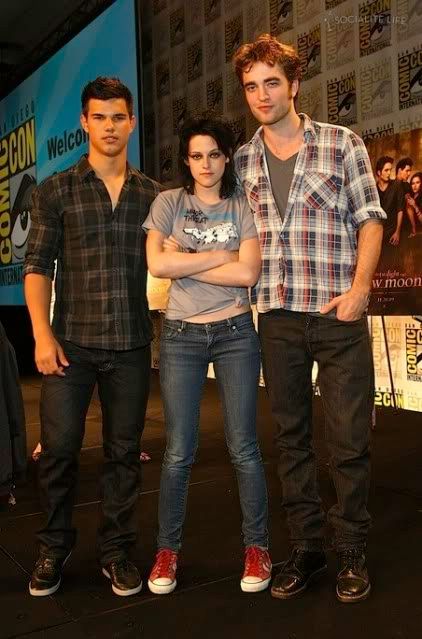 Kristen Stewart, looking t-u-f-f tough in her Minor Threat tee, with some guys. (Who are those random dudes? Fans or something?)
And then I regretted it. Because it occurred to me that whenever I see a young, pretty girl, especially an actress, sporting a t-shirt of any decent band, I assume that she doesn't know the band. Why do I do that? I don't think anyone ever questions it when a guy wears a band shirt. Why the double standard?
The better question might be, why do we wear band t-shirts? And maybe the right place to start is at home: I myself have quite the collection of band t-shirts. I like t-shirts, they're comfortable, and they're a great way to support a band. I try to only buy shirts at actual shows, because that way the proceeds go directly to the artist. T-shirts are also an important means of signaling your musical tastes, not only to others, but for yourself. Your band t-shirt is a declaration of your appreciation for a band, and also of your choice to wear a t-shirt rather than, say, a three piece suit, or a tube top.
Band shirts seem neutral, but are in fact very gendered (and also classed) articles of clothing. The fair-skinned, heterosexual, overtly feminine, middle class standards of womanhood and girlhood, do not involve band t-shirts. Such women and girls are rarely presented in such casual clothing -- they are expected to wear dresses, skirts, blouses, and other garments with decorative buttons and lace and ruffles. Women
are
their professional/office and formal attire, just as a younger women
are
their trendy, not-really formal, but not really relaxed, 'misses' section outfits.
And if you do see a girl in a band t-shirt, particularly as represented in film or television, she's sleeping, doing housework (like Jennifer Garner in
Juno
pictured below), depressed, or 'punk'.
Heaven beside you: Jennifer Garner paints nurseries in her (husbands?) band shirts!
But that's it, right there -- such a t-shirt often signals that a girl is punk, or at the very least, 'different'. Anyone remember Peyton on the early seasons of
One Tree Hill
? Who didn't fall in love with her and her devotion to her favorite bands, and her numerous band t-shirts? (I maintain that in real life, Peyton's taste would actually be much better, and much edgier, but I guess it's the point and not the vernacular.) Peyton is 'the rebel' on that program, as directly contrasted with Brooke, her stylish bff, who never wore any kind of t-shirt, though I wished she would.
In 'real life', band t-shirts seem to mean the same thing: a girl or young woman who wears band shirts on a regular basis, is bucking gender conventions, by wearing an article that is designed for men. And if she's taken the time to modify the t-shirt, tailoring, altering, or even just cutting it and transforming its dude silhouette into a garment that is more flattering to her figure, even better.
Or, you hope, anyways. The paradox is that as an article of clothing, t-shirts are inherently superficial. A girl in a band t-shirt could be a total radical, or she could just be wearing t-shirt. Women are assumed to be superficial, and because it's been feminized, fashion is assumed to be superficial as well. No one bothers to consider that women's choices of clothing, from t-shirts and jeans to ballgowns, are deliberately made, based on the individual's grasp on how clothing is produced, where it comes from, and what it means socially. Women and girls' sartorial behavior is automatically written off as irrelevant and frivolous.
So in the same spirit of bucking convention, I'm going to refrain from making assumptions about Kristen Stewart and her clothes and musical tastes. Because wearing band t-shirts is meaningful to me, and it's just one way of declaring that women are part of bands, shows, and the music industry, too. I have to believe this, despite the stereotypes and generalizations. I have to have faith, based on my own experience, that not every girl in a band t-shirt is just wearing something she found in her boyfriend's dresser drawer.